Use cases for Android in manufacturing
Use cases for Android in manufacturing are manifold. Here you can find some of the one most common ones that help to optimize shop floor operations and simplify the work of employees:

Learn more and share your challenge with us!
Our sales team will be happy to discuss your project and provide further insights. Why not book a 30-minute meeting right now?
Trusted by
our clients from the industrial and manufacturing space
Future proof shop floor solutions
With emteria.OS, the industrial Android, shop floor control dashboards, machine interfaces and other applications finally have a supported and reliable Android platform. Devices can be set up and controlled remotely via the emteria Device Hub. Even a very large manufacturer with globally distributed devices can thus manage their fleet cost-effectively from a central point and operate it in a fail-safe manner. With emteria's device support for various economical and widely available boards like the Raspberry Pi family, manufacturing solutions are quickly implemented. On top of that, emteria.OS comes with several industrial features so that you can fully focus on your use case and application. Regular updates for emteria.OS keep connected devices secure, and OTA update delivery ensures the lowest possible interference with production processes.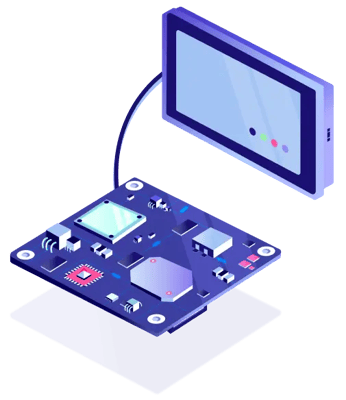 Frequently asked questions
Does emteria.OS stop to work once a product is shipped and the subscription period ends?
No, with each purchase at emteria you acquire a lifetime license of emteria.OS for your specific device. This means that emteria.OS will run forever. The only thing that is bound to an active subscription are our online services like remote device access via mobile device management.
Does emteria support Raspberry Pi and the official Raspberry Pi screen?
Yes, emteria is available for Raspberry Pi 3 and 4 as well as the Compute Module IO Board. You will be able to deploy Raspberry Pi running Android and manage these devices from the comfort of a browser.
We need to deploy a huge number of devices. Is there an easy way to do this?
You should check the emteria Device Provisioning which is a feature that enables mass deployment of a set of specific configurations. These configurations can include the screen orientation, device properties, kiosk mode settings and many more.