No more outdated Android products
With emteria, all software changes and regular security updates will be evaluated, built and delivered to all your customers products automatically. All update packages are roll out based on your maintenance schedule and specific product requirements. Update packages include:
Latest security patches
Critical bug fixes
Functionality upgrades
Added business services
Take app updates in your own hands

emteria not only provides the infrastructure to update the Android OS but also applications. Your private app store ensures marketplace-like app distribution and updates.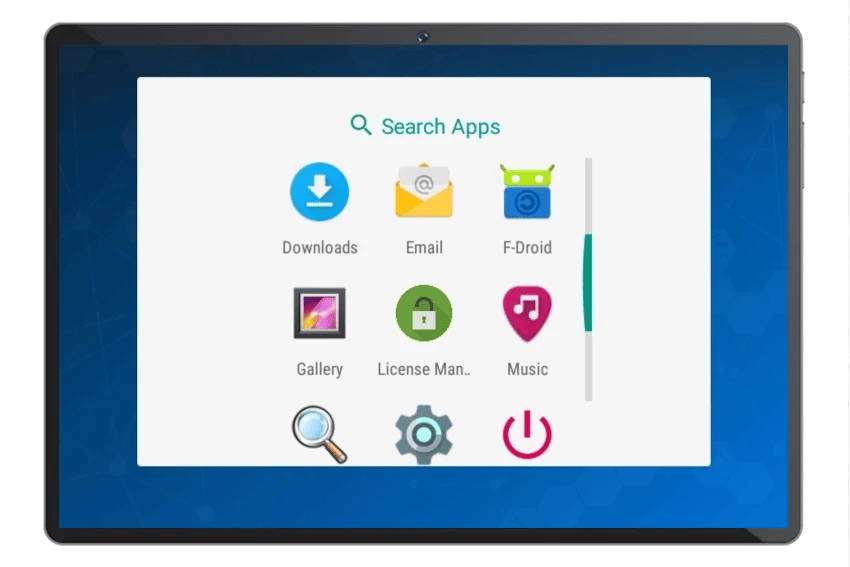 Frequently asked questions
The acronym (F)OTA stands for (Firmware) Over-The-Air. This type of updates is pushed remotely to devices which are installed in the production environment. A good example is smartphones, which receive their updates regularly over a wireless connection. These updates become more and more important in the context of professional Android-based devices. Especially if these run industrial and embedded business applications that are exposed to the Internet.
What is part of an OTA update?
OTA updates are typically used to update the underlying OS, including system applications, drivers, bootloader, and other configuration files like time zone rules. These updates do not necessarily affect applications that the user has installed from other sources. But the application stack can also be part of the OTA update, if required by the specific product.
Which devices need OTA update capability?
Any professional embedded device that may require software updates in future or could potentially be interesting for hackers should include an OTA update functionality. Devices with internet-connectivity are the most vulnerable embedded devices. Impressive examples like the casino fish tank thermometer hack illustrate that even simple connected devices can be exploited. Therefore, any device connected to the Internet or any internal network should have OTA update capability in order to be patched and protected remotely.
Why are OTA updates important?
OTA updates reduce maintenance costs in the long term. There is no need for a technician to update field-deployed devices on sight. You can act faster and more flexibly on critical situations by rolling out essential security patches, bug fixes, or the latest features as soon as they are ready to be released. Sustainable future-proof products keep up with new developments and understand updates as part of their solution.
How can OTA updates by monetized?
Competitive products understand updates as part of their solution. These operating system updates can be monetized through an extended service offering. Realize long-term revenue and retain your customer loyalty by providing long term support.
Can an OTA update functionality be implemented subsequently?
OTA update functionality can not be implemented subsequently without immense effort. This makes it crucial to think about it early on in the product development process. We are happy to help you with planning and implementation.
Why are Over-the-Air software updates important?