Radxa ROCK 4 SE is a popular single board computer (SBC) that has gained some but by far not enough attention. Haven't heard of the board or looking into the details before your final decision? You've come to the right place.
We'll give you an introduction to the board's tech specs. It's equipped with a powerful processor, plenty of RAM, and a host of other features that make it a top contender in the SBC market.
However, like any other SBC, it has its pros and cons, and it's important to consider these factors before making a purchase. In this article, we'll take a comprehensive look at the Radxa ROCK 4 SE and compare it with the Raspberry Pi 4B and the other models in the ROCK 4 family to help you make an informed decision about whether the SE is the right choice for your future project.
Cooperation between Radxa and OKdo
The ROCK 4 SE was launched at the end of 2022. It is a special edition (SE) launched in collaboration between the Chinese hardware manufacturer Radxa and OKdo, a British company specializing in the distribution of hardware in the European market.
The SBC has been developed as an alternative to the Raspberry Pi 4 Model B. It is in direct competition with the popular board. Like other SBCs before, such as Banana Pi, NanoPi, Orange Pi, and former ROCK Pi models, the 4 SE seeks to provide a solution to the semiconductor shortage in the market.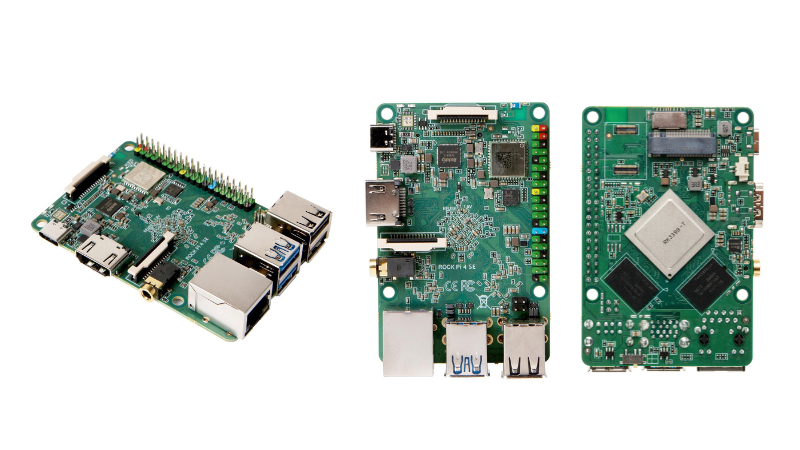 Image: Radxa ROCK 4SE
Radxa ROCK 4 SE's hardware specs: Get to know your next SBC
Before comparing the ROCK 4 SE to its competitors we'll take a look at what the board has to offer.
Processor and system memory
It is not a coincidence that the most successful Raspberry Pi alternatives all use the same processor.
The board is featuring a 64-bit hexa-core Rockchip RK3399-T with dual Cortex-A72 cores clocked at 1.5GHz and four Cortex-A53 cores clocked at 1.0GHz. The ROCK comes with 4GB LPDDR4 RAM. Radxa states on its wiki that there will be 1GB and 2GB RAM options but they are currently not available on common platforms such as OKdo or Allnet.
However, this powerful combination of processing power and system memory enables the ROCK 4 SE to handle a wide range of tasks with ease, from basic automation projects to more complex machine learning and artificial intelligence applications.
The Mali-T860MP4 GPU, which supports OpenGL ES 1.1/2.0/3.0/3.1/3.2, Vulkan 1.0, Open CL 1.1/1.2, and DX11, makes it possible to run graphics-intensive applications and games without any hiccups.
Storage options available for the ROCK 4 SE
The Radxa ROCK 4 SE boasts an impressive array of storage options. With support for up to 256 GB microSD cards, the ROCK 4 SE provides ample storage space for basic projects and applications.
For more advanced projects it features an eMMC port and additionally, an M.2 connector that supports up to 2TB M.2 NVME SSD (no SATA SSD support). Combined they enable users to use a tremendous amount of additional storage capacity at an incredibly fast speed. This wide range of storage options makes the ROCK 4 SE an excellent choice and holds an advantage over competitors' boards.
How the ROCK 4 SE stays connected
The Radxa ROCK 4 SE is equipped with a range of connectivity options. Such as:
WiFi
USB
Gigabit Ethernet
GPIO extension header
The wireless capabilities include 802.11 ac WiFi and Bluetooth 5.0, providing fast and reliable connectivity options.
On the wired side the device features two USB 3.0 connectors one USB-on-the-go (USB OTG - hardware switch for host/device switch) and one in HOST mode. In addition to that it has two USB 2.0 HOSTs and one USB-C slot supporting USB Power Delivery (USB PD 2.0, 9V/2A, 12V/2A). It has GbE LAN with Power over Ethernet (PoE) on board, although an additional HAT is required for PoE. The other power option is Qualcomm Quick Charge via QC 3.0/2.0 adapter (9V/2A, 12V/1.5A).
Besides, the ROCK 4 SE is designed with a 40-pin expansion header, which is Raspberry Pi-compatible. The GPIO header provides extensive compatibility with a wide range of SBC accessories.
Onboard multimedia functions
We already discovered that the Mali-T860MP4 quad-core graphics processing unit is the cornerstone of the ROCKs multimedia functions but there's more to the SBCs capabilities.
The Radxa ROCK 4SE offers a versatile display system, supporting both HDMI 2.0 for 4K resolution at 60fps and MIPI DSI 2 lanes via FPC connector, that can be used simultaneously. With an HD codec that supports up to 24-bit/96KHz audio and a 3.5mm jack with microphone input, the device ensures quality audio in- and output. Additionally, cameras can be connected via MIPI CSI 2 lanes through the FPC connector, supporting up to 800 Megapixels.
The ROCK 4 SE offers a variety of multimedia features that make it a cost-effective option for projects, such as digital signage, media centers, and other audiovisual applications.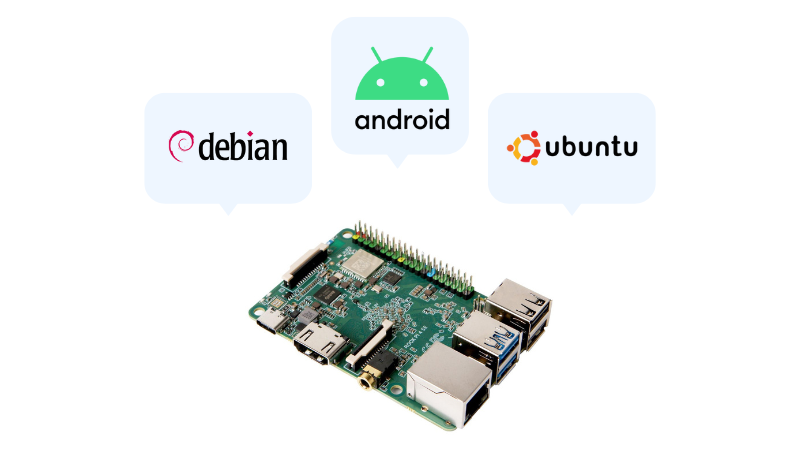 Image: Radxa ROCK 4SE software support

Software: Operating system support for the Radxa ROCK 4 Models
Radxas' boards usually come supported with an in-house Android and various Linux distributions. The ROCK 4 models are no exception. Find all the distributions on Radxa's ROCK 4SE download page.
ROCK 4SE Linux
Official Radxa Linux distributions that run on the ROCK 4SE are:
✔️ Debian 11 (Linux 5.10)
✔️ Ubuntu 20 Server (Linux 4.4)
ROCK 4SE Android
Official Radxa Android distributions are:
✔️ Android 11 (HDMI 4k)
✔️ Android TV
Third-party images
Several third-party and community-built images are available, such as:
✔️ Armbian
✔️ LibreELEC
✔️ Manjaro Minimal
✔️ DietPie
✔️ Slarm64
✔️ Recalbox
✔️ FreeBSD
✔️ OPNsense
✔️ CRUX-Arm
Get in touch if you are interested in running emteria.OS Android on your ROCK 4SE (we currently support ROCK 4A+ and 4B+).
ROCK 4 SE vs. Raspberry Pi 4B: The SBC showdown
Now let's get down to business: Which one is better ROCK 4 SE or Raspberry Pi 4B?
We've conducted a table to give a better overview of all tech specs:
Model
ROCK 4 SE
Raspberry Pi 4B
SOC
Rockchip RK3399-T
Broadcom BCM2711
Processor

hexa-core 64-bit
dual-core Cortex-A72 1.5 GHz
quad-core Cortex-A53 1.0 GHz

quad-core 64-bit
quad-core Cortex-A72 1.5 GHz

Memory
4GB – LPDDR4 RAM
Dual channel (64bit)
2GB – LPDDR4 RAM
4GB – LPDDR4 RAM
8GB – LPDDR4 RAM
Graphics
Arm Mali – T860MP4 GPU


supporting OpenGL ES 1.1 /2.0 /3.0 /3.1 /3.2, Vulkan 1.0, Open CL 1.1 1.2, DX11

Broadcom VideoCore VI


supporting OpenGL ES 3.1, Vulkan 1.0

Networking
GbE LAN
802.11 b/g/n/ac WiFi
Bluetooth 5.0
BLE-Module
GbE LAN
802.11 b/g/n/ac WiFi 2.4/5GHz
Bluetooth 5.0
BLE-Module
Power

USB Type-C
PoE (PoE-HAT required)
Qualcomm Quick Charge

Recommended PD or QC power supply with max. output of 9V or 12V

USB Type-C
PoE
USB
1x USB 3.0 TYPE-C
2x USB 2.0 TYPE-A
1x USB 3.0 TYPE-A
1x USB 3.0 TYPE-A OTG (Switchable)
1x USB 3.0 TYPE-C
2x USB 2.0 TYPE-A


Interfaces
40-pin GPIO interface
40-pin GPIO interface
HDMI
1 x Standard HDMI 4k@60fps
1x Micro HDMI 4k@60fps
Video
Camera 1 x 2 lane MIPI CSI
Display 1 x 2 lane MIPI DSI
Camera 1 x 2 lane MIPI CSI
Display 1 x 2 lane MIPI DSI
Audio
3.5mm jack, analog stereo output, microphone input
3.5mm jack, 4-pole stereo audio, composite video port
Storage
microSD card slot
M.2 (M key) socket for NVMe SSD
eMMC flash socket
microSD card slot
Other
RTC (real-time clock)
incl. battery connector for time backup (optional)
Size
85mm x 54mm
85mm x 56mm
Pricing
From $70 (4GB RAM)
From $60 (4GB RAM)
Both boards are valid options for several projects. The Raspberry Pi is particularly ahead of the ROCK 4SE in terms of brand recognition, and thus also has a large and active developer community.
The ROCK 4 SE scores some impressive points in the hardware department:
Better performance – 4GB 64bit RAM, more processing cores, and a broader memory interface
Extensive storage capacity – microSD card slot, M.2 socket for NVMe SSD and eMMC flash socket
Onboard RTC - real-time clock, registering time even when powered off
The Raspberry Pi comes with:
More memory options - 2GB, 4GB or 8GB RAM
Space-saving connections - Micro HDMI
Board layout comparison
Besides performance and storage, the boards also differ in their layout, and we are not talking about the tiny difference in size. The ROCK 4 boards and Raspberry Pi 4B have different board layouts.
While the Raspberry Pi 4B has the CPU located at the top center of the board, the ROCK 4 SE has it located at the bottom. Having the CPU on top of the board instead of the bottom has some advantages:
Better heat dissipation – heat generated by the CPU can be easily dissipated
Added cooling – for power-intensive projects a heatsink or a cooling system can easily be added
More space – CPU on top allows for additional components and traces on the bottom of the board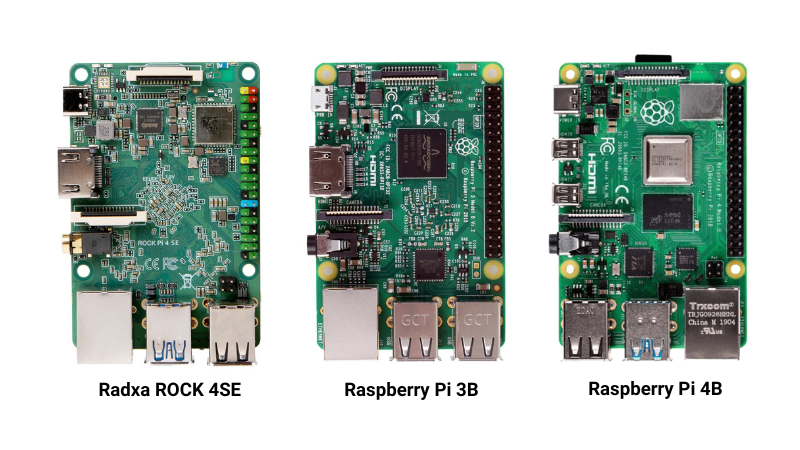 Image: Top of Radxa ROCK 4SE vs. Raspberry Pi 3B vs. Raspberry Pi 4B
Seeing the overall layout of the ROCK 4 SE it reminds more of the Raspberry Pi 3B than the 4B. The order of Ethernet port and USB slots is the other way round, first Ethernet then USB port, whereas on the RPi 4 we have the USB ports on the left and the Ethernet on the right. The same is true for the placement of the HDMI and USB-C ports.
Is the ROCK 4 compatible with Raspberry Pi cases?

The short answer is yes. The ROCK 4 usually fits into Raspberry Pi 3B cases. But be aware that depending on your project we do not recommend using the ROCK 4 without a heatsink. Since the CPU is on the bottom, not on top, cases for Raspberry Pi solutions with heatsinks do not fit.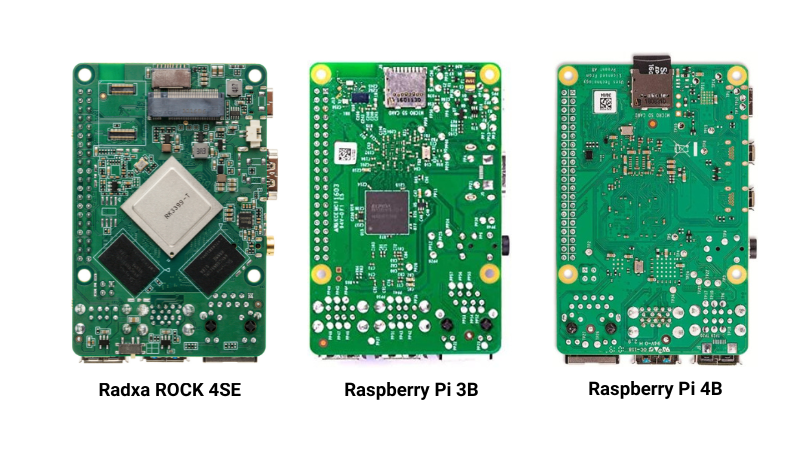 Image: Bottom of Radxa ROCK 4SE vs. Raspberry Pi 3B vs. Raspberry Pi 4B

Which one is better ROCK 4SE or Raspberry Pi 4B?
While the Raspberry Pi 4 is a popular choice with an active dev and open-source community, the Radxa ROCK 4SE outperforms it in terms of performance and storage options.
With its hexacore processor and dual-channel LPDDR4 memory, the ROCK 4SE can handle more intensive workloads and run applications at a faster pace. It also boasts additional features such as an eMMC connector, M.2 SSD support, and RTC.
The board's layout and expansion options, including the GPIO header and camera support, make it just as flexible and customizable as the Raspberry Pi 4B. Thus, a wide range of projects can be realized with the ROCK 4SE. Overall, it is a great choice for those seeking a high-performance single-board computer with extensive capabilities and flexibility.
Radxa ROCK 4: A family of two generations
Like the Raspberry Pi Radxa's ROCK family is growing and evolving. There are currently seven models of ROCK 4 SBCs on the market:
Radxa ROCK (Pi) 4A (2018)
Radxa ROCK (Pi) 4B (2018)
Radxa ROCK (Pi) 4C (2020)
Radxa ROCK 4A Plus (2021)
Radxa ROCK 4B Plus (2021)
Radxa ROCK 4C Plus (2022)
Radxa ROCK 4SE (2022)
The ROCK 4 Model SE is part of the second generation of ROCK 4's. In the first generation, the Radxa devices product name was still ROCK Pi 4.
What's the difference between ROCK 4 and ROCK Pi 4?

The name was changed in the second generation of ROCK 4 to prevent confusion since ROCK Pi was often referred to as the brand name which is actually Radxa. Therefore, old documentation often refers to, for example, ROCK Pi 4B or ROCK Pi 4 Model B. Keep that in mind when searching for additional information or images to run on your ROCK 4 Model.
Two generations one DNA
All ROCK 4 models share an underlying DNA such as their size (85mm x 54mm), an Arm Mali – T860MP4 GPU and 64bit LPDDR4 RAM. All ROCK four models come with a micro-SD card slot supporting up to 256 GB μSD cards, a Raspberry Pi compatible 40-pin GPIO interface, and the same set of USB slots:
1x USB 3.0 Type-C
2x USB 2.0

TYPE-A

1x USB 3.0

TYPE-A HOST

1x USB 3.0

TYPE-A

OTG (Switchable)
Evolutionary development within the next generation
We've discovered the similarities but what's more interesting are the differences between boards. Otherwise, it's hard to make an informed decision on which one to choose.
In the first-generation Model A and B are pretty similar. Model A is the basic version. Starting from Model B the board comes with WiFi, BT and Ethernet. The upgrade to ROCK 4C is Micro-HDMI and an additional mini display port.
The next generation ROCK 4A+ and 4B+ upgrades the Processor to a Rockchip OP1 and adds an eMMC ship (with up to 128GB) onboard instead of a connector. ROCK 4SE and ROCK 4C+ add an even better processor - the Rockchip RK3399-T – and both feature the eMMC connector.
In addition, ROCK 4 Model C Plus changes a couple of details (see image). The biggest addition is a 2k Micro-HDMI port added to the 4k Micro-HDMI and the 2-lane MIPI DSI port of its predecessor.
To take a closer look at how the boards differ click on the image below:
Image: Radxa: ROCK 4A, 4B, 4C vs. ROCK 4A+, 4B+, 4C+ and ROCK 4SE

Wrap-Up and final thoughts on the Radxa ROCK 4SE
That's a lot of information to take in! Whether you prefer the ROCK 4 SE, one of its siblings or the Raspberry Pi 4B is up to you.
One final argument for the ROCK 4SE is OKdos' and Radxas' assurance that the ROCK 4SE will stick around. Even though it is a special Edition, the two companies guarantee long-term availability (September 2029) and corresponding support of the board. This eliminates the need to search for suppliers with equipment in stock and allows you to focus on developing innovative solutions. The availability is even more tempting since it addressed the semiconductor shortage in the market.
What is certain is that the ROCK 4SE is a powerful and versatile SBC that offers excellent value for its price, making it a top contender for a range of applications, from digital signage and media centers to HMIs and IoT.
---
Useful links and sources:
Out now Radxa ROCK 5
What is the new model capable of?
Radxa ROCK 5B impresses as a powerful Raspberry Pi 4B alternative. It is a great choice for high-performance embedded applications.
Read more about ROCK 5B