After long anticipation, the new Radxa ROCK 5 has been finally shipped. And Radxa did it again – the new ROCK 5B exceeds expectations!
This article gives an overview of the tech specs of the new ROCK 5 Model B, compares it to Raspberry Pi Model 4B and introduces Radxa's very own ROCK Compute Module including why Radxa's boards are a great choice for a future-proof investment. Let's dive in!

Image: Radxa ROCK 5
Radxa ROCK 5 - Single-board computer with eight cores and triple display support
Radxa ROCK 5 Model B is a forceful Raspberry Pi alternative that is powered by the popular SoC Rockchip RK3588 and comes with eight ARM processors - four Cortex-A76 cores with 2.4 GHz and four Cortex-A55 cores with 1.8 GHz. That is not just two more than we know from the predecessor model ROCK 4 but also an upgrade from formally built-in Cortex-A72 cores with 1.8 GHz and Cortex-A53 cores with 1.4 GHz.
As usual, the ROCK SBCs are offered in a range of models that mainly differ in RAM. The RAM size determines the price. ROCK 5B is available with:
✔️ 4 GB LPDDR4x-RAM – 129$
✔️ 8 GB LPDDR4x-RAM – 149$
✔️ 16 GB LPDDR4x-RAM – 189$
If you want to enjoy the full capacity of all eight cores, you need to provide enough RAM, so investing in 16 GB of RAM is worthwhile, even if the price is correspondingly higher.
No matter which RAM size is chosen all ROCK5 models feature:
2.5GbE LAN with PoE support
WiFi 6E WLAN module support

Bluetooth 5.2 support

Three USB 3.2 Gen 1 Type 2 ports
Please note that WiFi and BT are not included by default, but are only available via an add-on board.
There is a PCIe 3.0 slot with four lanes that supports the installation of NVMe SSD. Like the ROCK 4, the ROCK 5 has an eMMC socket and a microSD card slot installed.
In addition to two HDMI 2.1 ports, a USB-C port with DisplayPort support is available for image output. This way, not one or two but three 4-8k screens can be connected with up to 60 frames per second.
All this is housed on a 100 x 72 mm circuit board in PI-co ITX form factor which has grown out it's former model's size (85 x 54 mm). As we are used to from previous ROCK Pi models, it has a 40-pin GPIO expansion header which looks similar to Raspberry Pis GPIO pinout but is not compatible.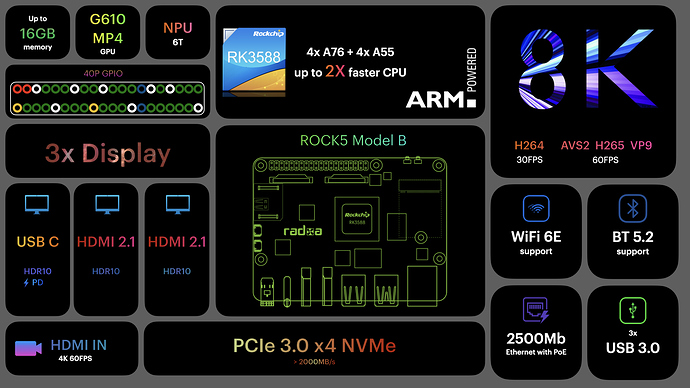 Image: Radxa ROCK 5 tech specs overview

Radxa ROCK 5 vs. Raspberry Pi 4B
The ROCK series is often mentioned in connection with the Raspberry Pi. This is no coincidence. The ROCK 4 - or ROCK Pi 4 -, which is available in versions A, B and C, is reminiscent of the popular Raspberry Pi 3B, not only in its form factor but also in its physical layout.
The ROCK SBC was released in 2018 and Raspberry Pi Foundation launched an updated version 2019 shortly after Radxas' first success.
Since then, the Raspberry Pi Foundation has not announced a new version of the popular Raspberry Pi 4B. Therefore, we take a look at the RPi 4B in comparison to the Rock 5B, both with 8 GB RAM:
The Pi off
Comparing both SBCs shows that there are many similarities between the two boards but there are also noticeable differences.
| | | |
| --- | --- | --- |
| | ROCK 5B | Raspberry Pi 4B |
| Processor | octa-core 64-bit (1.8 GHz quad-core Cortex-A55 and 2.4 GHz quad-core Cortex-A76) | quad-core 64-bit (1.5 GHz quad-core Cortex-A72) |
| Memory | 8 GB LPDDR4x SDRAM (plus options for 4 GB and 16 GB) | 8 GB LPDDR4 SDRAM (plus options for 2 GB and 4 GB) |
| Graphics | Mali G610MC4 GPU | Broadcom Videocore-VI GPU |
| Networking | 2.5GbE LAN with PoE support, WiFi 6E, Bluetooth 5.2 | GbE LAN, 2.4 GHz and 5 GHz 802.11b/g/n/ac WiFi, Bluetooth 5.0 |
| I/O | 1x micro HDMI input, 3.5 mm audio-video jack with mic, 2x HDMI 2.1, 1 x USB 3.0 TYPE-C port (DP), 2x USB 3.0 TYPE-A ports, 2x USB 2.0 ports, camera serial interface (2x MIPI CSI), display serial interface (MIPI DSI), 40-pin GPIO interface | 2x micro HDMI, 3.5 mm audio-video jack, 1 x USB 3.0 TYPE-C port, 2x USB 3.0 TYPE-A ports, 2x USB 2.0 TYPE-A ports, camera serial interface (MIPI CSI), display serial interface (MIPI DSI), 40-pin GPIO interface |
| Storage | microSD card slot, M.2 2280 socket for NVMe SSD (PCIe 3.0 x4), eMMC flash socket | microSD card slot |
| Power | USB TYPE-C port, Power over Ethernet (PoE) | USB TYPE-C port, Power over Ethernet (PoE) |
| Size | 100 mm x 72 mm | 85 mm x 56 mm |
Rock 5 Model B or Raspberry Pi 4 Model B: Which one performs better?
The processors used on the boards indicate that the ROCK 5B has a clear advantage over the RPi 4B in processing power.
I/O ports are similar, with matching USB ports two support USB 3.0 and two USB 2.0 and the 40-pin GPIO connector. HDMI ports are expanded to 3 instead of 2 on the ROCK 5, and WiFi, Ethernet, and Bluetooth support is a bit more up-to-date on the ROCK 5 compared to the Raspberry Pi versions.
Here is a list of the major advantages of ROCK 5B over the Raspberry Pi 4B:
✔️ Faster CPU speed - 4x 1.8GHz & 4x 2.4GHz vs 4x 1.5GHz
✔️ More memory – up to 16 GB RAM vs 4 GB RAM
✔️ Better graphic card – 8k output vs 4k output
✔️ Extended display support – Triple vs dual display support
✔️ High-performance storage - eMMC storage, M.2 2280 socket for NVMe SSD vs microSD card slot
✔️ Up-to-date – eg. BT 5.2 vs BT 5.0
Compared to these advantages, the disadvantages of the ROCK 5 are rather unimpressive. The main argument against the ROCK 5 is the price and the form factor. However, these are both arguments that can be very important in product development.
The good news is that the form factor is not a big issue, as Radxa also offers the ROCK 4 alongside the ROCK 5, which is similar to the Raspberry Pi in terms of form factor but still has better performance.
Compute Module: Flexible embedded Pi alternative
Talking about the form factor: Raspberry Pi 4 and ROCK 5 are both SBCs that come in a fixed form including certain ports. This is useful for many applications, e.g. prototyping. However, building commercial or industrial products often requires a more flexible form factor, which is possible, for example, by eliminating the built-in USB TYPE-A ports.
Due to the increasing demand for an industrial-grade solution, Raspberry Pi introduced a System-on-Module (SOM) - the Compute Module - for embedded applications. After the introduction of this first version CM1, CM3 and CM3+ followed with some improvements but in the same form factor that fits into a standard DDR2 SODIMM connector. This made CM1, CM3 and CM3+ easily upgradeable.
Image: Raspberry Pi CM 3 IO board

This approach made it possible to benefit from the improvements of the newer Raspberry Pi CM versions without replacing the custom carrier boards. An excellent solution for industrial applications that typically design a custom carrier plate for their product lines. They just have to change the Compute Module without redesigning their whole product. Moreover, existing products can also be upgraded, which can be useful for industrial applications that usually have a longer life cycle.
Image: Raspberry Pi CM 4 IO board
With the introduction of the Raspberry Pi CM4, things changed and a new compact form factor was introduced. This is generally a big improvement for companies starting out with CM4.
However, for use cases that rely on the easy interchangeability of CMs through the SODIMM connector, the new form factor meant redesigning their custom carrier boards from scratch.
As the Raspberry Pi Foundation received increased feedback on this issue, it became clear that the demand for a more customer-friendly solution was high. They introduced the CM4S with a SODIMM connector as an alternative to the new generation CM4. Good news for companies using the earlier versions of the RPi CM! After all, they can upgrade their product lines with less effort.
But this solution is only temporary, as RPi's website states it is not for general sale, but only for companies that have the problem of not being able to migrate from CM3 or CM3+ as easily as expected.
Radxa's very own Compute Module
This is where Radxa comes in. They are currently working on a new System-on-Module (SOM) - Radxa ROCK5 Compute Module (RK3588/RK3588S). Based on the ROCK 5 the CM5 comes with extra IO interfaces, opening up more options for product designers.
The SOM will be available in two standard variants, Radxa CM5 and Radxa NX5. The difference? The compatibility with carrier boards.
CM5: Compatible with Radxa CM3 and Raspberry Pi CM4 in pinout and form factor
NX5: Compatible with Nvidia Jetson Nano / TX2 NX / XAVIER NX, SODIMM form factor
We already know this approach from the Radxa CM3 series. Which are available in three variants:
CM3: Compatible with Raspberry Pi CM4 in pinout and form factor
CM3 SODIMM: Compatible with Raspberry Pi CM3/CM3+, SODIMM form factor
CM3 Industrial: Compatible with Raspberry Pi CM4 pinout in a larger size with industrial temperature range option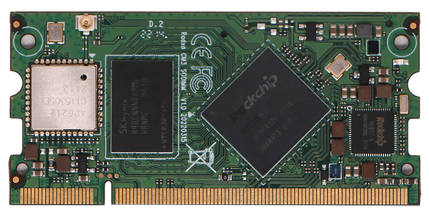 Image: Radxa ROCK CM3 SODIMM

Radxa's CM3 series was introduced in response to Raspberry Pi's CM4 shortage. It looks like Radxa has learned from the migration problems Raspberry Pi customers had when the CM4 was introduced.
Apparently, Radxa keeps its promise to support the SODDIM form factor in the latest successor version of the Compute Module as well. This is good news for all companies looking for a sustainable way to migrate their products to newer and improved hardware without having to invest in new custom carrier plates.
We are certainly eagerly waiting to see when Radxa releases pricing and availability for CM5 and NX5.
Future-proof embedded solutions
Raspberry Pi users often switch to a Radxa ROCK when they are simply unable to get their hands on a larger number of Pis. But that's not the only reason to consider switching to ROCK 5!
Radxa's hardware solutions are a great alternative to the Raspberry Pi because of their improved performance. This especially benefits the use of the Radxa ROCK series in powerful embedded products. The new model additionally convinces with great resolution, triple display support and updated specs.

Another argument for especially using the CM series in an industrial context is Radxa's approach of developing durable and upgradable solutions. This speaks for the manufacturer as a provider of industrial-grade embedded solutions.
---
Useful links and sources:
Power your ROCK 5B with Android
Interested in running embedded Android on the Radxa ROCK series?
Check out emteria.OS! It is now available for Radxa ROCK 5B (Nightly version).
Start for free