Over the last two decades, the mobile phone market has been expanded. Nowadays, almost everyone has a smartphone. Not only it has changed the way we receive information and learn new things, but also the way of how we interact with devices.
The improved user-friendliness has established Android as an attractive operating system in many areas. For example, smartphones are increasingly used in companies. Most workplaces, therefore, limit the usage of mobile phones using Android kiosk mode during work hours to help employees to stay focus and avoid any security breaches. So, what exactly is Android kiosk mode? Let's find out.
What is an Android kiosk?
In simple terms, by enabling Android kiosk mode you impose a lockdown on your device that restricts users to access only specific pre-selected applications. This allows you to use the phone for its essential purpose, but other features like social media apps are confined.
You can restrict access to only particular apps by using Android kiosk mode. When you define a function or an app that you want to use, you do not get access to the entire phone. Instead, you get access to the app you requested. It aids with the management and upkeep of your Android device.
The ease with which you may set up your device in Android kiosk mode is one of the reasons why this mode is so useful. It gives you the freedom to adjust and customize settings to your needs. It is easily adaptable to diverse settings.
Importance of Android Kiosk Mode in enterprise
As mentioned above, the market for the use of mobile phones in the workplace is rapidly expanding. Mobile phones and tablets come with a variety of functions and features. One of the most significant disadvantages of mobile is how distracting they can be.
Employees are frequently distracted by it. They use it to chat online, respond to emails, or become addicted to gaming. It is a huge source of entertainment and can interrupt employees' productivity. Companies are frequently under pressure to meet their customers' expectations, and they cannot afford to allow their employees to squander time on their smartphones.
The issue of security is also a critical problem. When employees download data or apps from untrustworthy sources, they risk security breaches. It is no secret that many businesses have become victims of similar attacks. As a result, employing Android kiosk mode can assist in addressing all these concerns.
To summarize, here are all the ways that Android as a kiosk can benefit businesses:
Assists employees in being more productive and helps them prioritize their tasks. As a result, productivity and focus are improved
Provides restricted access to everything except a few pre-selected productivity apps
Provides security and prevents any cyber-attacks from happening as employees cannot download from unreliable sources
Helps in improving the customer's experience. The targeted access provided by Kiosk mode can improve the interface and allow the device to function as intended
Decreases the overall costs related to data consumption since employees are prohibited from downloading from untrustworthy sources
Helps in the facilitation of payments and transactions
Helps in the management of assets and employees to achieve optimum efficiency and production
Saves time and money in the long run
Android Kiosk use cases
Helping students stay focused in classrooms
App kiosk mode Android can be useful in a variety of situations. Students have a short attention span and are often distracted by the need to check social media accounts or access gaming websites, among other things. Using Android kiosk mode, you can limit their access to only those apps and websites that will help them meet their academic goals. You can manage their distractions and keep them focused by using Android kiosk mode, which is difficult to disable.
Enhancing user experience in various sectors
To improve customer experience, Android tablet Kiosk mode is widely employed in a variety of industries, such as:
If you've ever been to a high-end restaurant or cafeteria, you've probably noticed how you're expected to order or pay with a tablet. Kiosk mode is enabled on Android-based devices to fulfill the sole purpose for which they were designed. Customers cannot browse or use any other applications while in kiosk mode. It's also used in hospitals for self-check-in and appointment scheduling. In airports, kiosk mode is enabled on digital signage devices. Customers will not be able to make any changes to the device settings when using Android kiosk mode.
Features of Android Kiosk Mode
Restricted access to selected applications
Allows users to gain access only to those apps which have been enabled. Android kiosk mode is used to lower data costs, prevent data from being wasted on unnecessary apps and browsing, avoid security breaches, and, most importantly, allow employees or customers to use the tablet or smartphone for its intended purpose.
Limiting access to a single application
Often, most companies will need their users or employees to use only one application related to their course of work. With the use of the Android Single Application Mode, you can resolve this issue. Once you select an application, you can reboot your device and turn it on again. Once it is on, the access will be limited to the app you've selected. Even if the mobile shutdowns or crashes for an unknown reason, Android kiosk mode will still block access. If users try to exit, it will launch automatically once again.
Better control over settings
Even when the device is in lockdown mode, several built-in functions and controls can be accessed. Users can still access the camera, Bluetooth, Wi-Fi settings, brightness, GPS, location settings, etc. It is not a good idea to leave these controls accessible to users as they may reset them. You can turn off these controls in Android kiosk mode. Users can no longer make changes to these settings. They won't be able to browse maps or take pictures if you've limited camera and GPS functionality.
Driving mode to prevent accidents
Drive Safety Mode is one of the features of Android device kiosk mode. Every day several road accidents happen while the driver is distracted by being on a call or using some other application. Driver Safety mode can control these accidents as the driver will be restricted to using only specific apps and functions in his or her infotainment system.
When the vehicle is speeding over the limit, Drive Safety Mode imposes a strict lockdown to prevent the driver from using it and getting distracted. Only when the speed is back to normal and is safe, it cools down by providing access to the selected apps. The driver can still have access to Google Maps, as they are essential for finding places. Drivers won't have complete access until they've come back to driving at a safe speed.
Benefits of Kiosk Mode for Android devices
All security concerns are addressed
When it comes to technology, one of the most pressing concerns is preventing unauthorized users or hackers from controlling the devices. Monitoring usage, locking down apps and browsers, restricting access, and managing other settings is easy with Android kiosk mode. There's no need to rely on power buttons because Android kiosk mode on tablets and other Android devices is far more convenient and secure to use.
Little to no involvement or need for human interaction and resources
The Android kiosk mode is mostly used in business settings where clients must book, register, or provide feedback. Previously, customer service and personnel assisted clients with all of this. With Android kiosk mode, you can now get everything done quickly and efficiently without the need for human intervention. For example, customers can check-in at kiosks in airports and hotels.
Easy to use and much better compatibility
In Android, enabling kiosk mode is a lot easier. Android-based devices are far less expensive and more accessible. Users will have more flexibility if they enable kiosk mode on Android devices because there are several price ranges to pick from. For example, Android smartphones are better suited for kiosk mode because they come in a considerably larger size with the same features at a lower price. But also other hardware such as Raspeberry Pi can be run with Android and used to build customer-facing devices.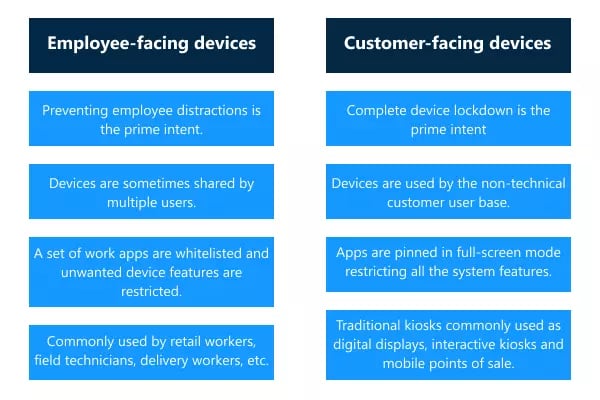 Summary
To summarize, we live in a world that is rife with diversions. There's always an email to respond to, a notification to check, or a photo to upload. It's practically tough to stay focused and get things done these days, especially with how distracting social media can be.
However, do not allow these diversions to cloud your judgment about how valuable these technologies can be and how they can improve our lives. By activating Android kiosk mode, companies can employ tablets or mobile phones to increase employees productivity.
Furthermore, Android kiosk mode is useful when locking down apps and browsers, restricting access, and managing other settings in a customer-facing use case such as POS systems in retail stores.