As much as the Play Store has many rivals, Aptoide is ranked as the closest rival since it matches all Play Store measures and offers nearly the same experience that one may need.
Did you just think of ditching the Play Store for any of its closest rivals? This copy will act as a go-ahead or assurance for your thoughts, here, we are going to discuss all the best reasons to do so, and also some of the disadvantages that you will face upon executing your new thought!
It's a clear guess that you're an Android user since Android phones and other Google certified devices do come with Google Play, which is also going by the name Play Store. This is like a mall for most of the apps that you may want to use on your device.
Talk of apps matching your shopping needs, gaming, music and also movies just to name a few, all are present in Google Play! Just like Apple has Apple's App Store, so does Android's Play Store!
As opposed to the IOS users, Android users can easily shift from Play Store to another different app store that matches their needs. However, the question still remains, is it a good idea to move to another Play Store rival?
Just like any other case, there are several benefits of choosing to do so – shifting from Google Play to any of its rivals.
We are also going to discuss some major reasons why you should shift to another app store and also several other things touching on this topic.
With all that said, let's plunge in!
The reasons for replacing Google Play Store with an alternative app store?
As mentioned, there are some important reasons why one may want to replace Google Play Store with its closest rivals.
Below are some of the reasons that will send you looking for Google Play Store rivals right away!
1. To avoid monopolization
Android users around the world are using Google Play Store even though they know so little of how it operates. This is mainly because they always get this app store pre-installed on their devices, and another major reason is that it hosts nearly all the apps that they need for their daily use and others for dedicated tasks. It offers one of the best user experiences that one may want! But not a similar case when you decide to find out the web for desktop installers. The main limitation, in this case, is that this move gives Google extreme powers of determining the apps that we choose to use or download from the store.
Google Play Store also has the mandate to pull apps that they don't want down from their stores. In other simple words, an application that meets most of your crucial needs can be taken down at the moment that you really need to use it or at the time that you least expect. The same short notice also applies to the app's developer.
Besides all that, Google charges a certain amount based on each sale that is made in the Play Store. They claim that the charges are channeled to building and maintaining Play Store's smooth operations. As if that's not enough, Google also pressures Android phone manufacturers to meet all their demands. And as a result, in the past years, Google has always been penalized heavily for forcing Android phone manufacturers to meet their conditions!
2. To be absolutely private
If you are that individual whose privacy comes first, or a company that values a certain degree of enigma, then you will, without thinking twice, ditch Google Play Store for another better alternative app store!
As you may know, you will need a Google account to gain access to the Play Store, isn't that so? Well, by doing so, Google finds the opportunity to log every app that you install on your Android phone and Android device.
If you think this is nothing but a mere joke, then, find your way into the Google library and you will end up surprised if not shocked to bump into a long list of every app that you have ever installed on any Android phone that you have ever used or owned!
What if you just installed the app and used it for a few seconds, or even never used it before uninstalling it? Google won't spare that either, everything will be present in the list. You don't have to worry much about this because if you feel that you need to get some apps from the list, then, you will have to dedicate your time to manually getting rid of any apps linked to your Google account.
Are you thinking of disabling this feature that keeps records of all apps that you download as you continue to use the Play Store? Sadly, there's no escape to this, Google forces you to use this feature and the only way to escape it is to avoid using the Play Store in whichever means!
That sounds so commanding and doesn't give space for your privacy needs, right? Unfortunately, since Google Play Store boasts of dominating the app store world, if it's a must that you have to use it, then, you have no choice but to adhere to these extreme conditions that take away every piece of privacy that you may need.
3. To ditch Google
Since many people opted for other Google alternatives for different reasons such as privacy concerns, if you did so or planning to do so soon, then, you need to have in mind that you will have to forget about using Google Play Store as well!
Google Play Store requires a Google account for you to proceed to its home layout. If you have been using Google Maps and YouTube without having to sign in, then, keep in mind that Google Play is a different case, and you will have to sign in with a Google account.
This will leave you with only two possible options to choose from, find other alternative ways to download all apps that you want or be content with the few most basic preinstalled apps on your device!
4. To find more apps
As much as many Android users around the globe always think that the Play Store houses all apps ever developed, the truth remains that there are some other several apps that are doing extremely well, and they are not available in Google Play Store!
Some of the great apps that we use are not present in Google Play due to several reasons, such as:
They operate on either custom ROMs or rooted phones
They reject all the overwhelming terms and conditions
They are Google Play alternatives or rivals
They are self-made apps meant for your devices only
Regional cases
To overcome all the above-listed limitations of Google Play, all that you need to do is get somewhere else where you can download and install the apps. Most probably, you may consider using Google Play alternatives or manually download the app from its official website and manually install the APK.
The most popular Android store alternative
For many Android users across the globe, Google Play remains to be their first choice since it provides tons of apps and games for its users. However, as much as it dominates the app store market with millions of apps, there are certain other crucial apps that are missing in Google Play Store.
As earlier said, there are several reasons why some apps are not available in Google Play Store. They include:
They operate on either custom ROMs or rooted phones
They reject all the overwhelming terms and conditions
They are Google Play alternatives or rivals
They are self-made apps meant for your devices only
Regional cases
The most popular Android Store alternatives are not limited to:
APKMirror
Amazon Appstore
F-Droid
GetJar
SlideMe
AppBrain
GetAPK
1. APKMirror
As the name goes, here, you will be able to download several free Android APKs and expect to find no paid apps in this place because they aren't available. Unfortunately, since it lacks a dedicated app, you will be forced to download all the apps that you need from its official website.
You also need to be assured that all apps that you will download in this place are free from malware attacks, free and safe for your phone. Based on the interface, you will enjoy its homepage having apps arranged in a chronological pattern, popularity charts filtered monthly, weekly, and also 24-hour timeframe. You will also enjoy a search bar when you want a specific app within a short time.
2. Amazon Appstore
This is one of the top rivals of the Play Store that you may choose to use! It's also called Amazon Underground. Another plus with this is that you can download some of the paid apps in Google Play for free. You will also have both paid and free apps here.
Another amazing thing worth noting is that each day, they offer a paid app for free! If you can dedicate your time and check these daily, then, you can download several paid apps free of charge. The number of apps in this store is considered vast and almost matches that of Google Play, and you will pay for apps at a lower cost when compared to Play Store prices.
3. F-Droid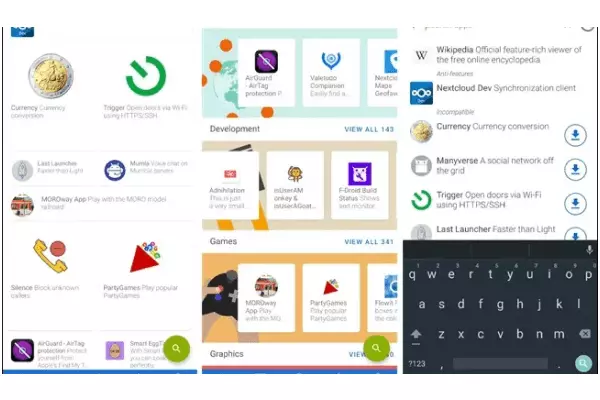 Are you after privacy? If so, then, this is your best app store because it's privacy-oriented and the best you can decide for. Here, you will find free and open-source apps only! It also boasts of a stunning interface and numerous collections of apps for free that you will enjoy.
By the way, F-Droid is pre-installed with every emteria.OS device. Emteria enables you to create a private repository and make custom apps available via F-Droid.
4. GetJar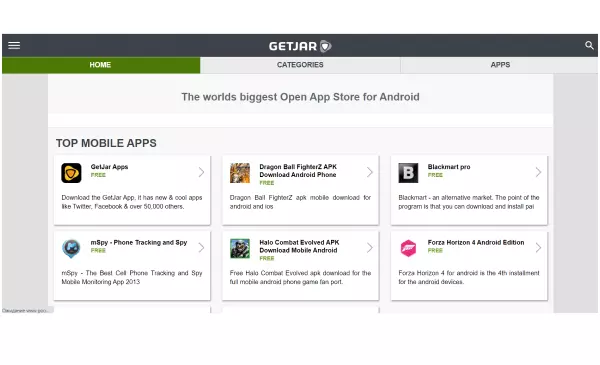 This is recognized as the oldest app store, and believe it or not, it's older than the Play Store! It also offers 800K+ categories of apps in several major mobile platforms such as Blackberry, Android, Windows Mobile and Symbian. Besides apps, you will also get themes and games.
5. SlideMe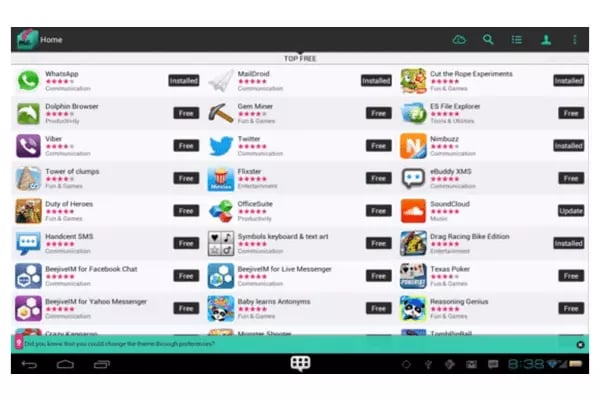 SlideMe is also one of the oldest app stores in the market. It's deemed safe and easy to download. Just like other app stores, it offers both paid and free apps.
6. AppBrain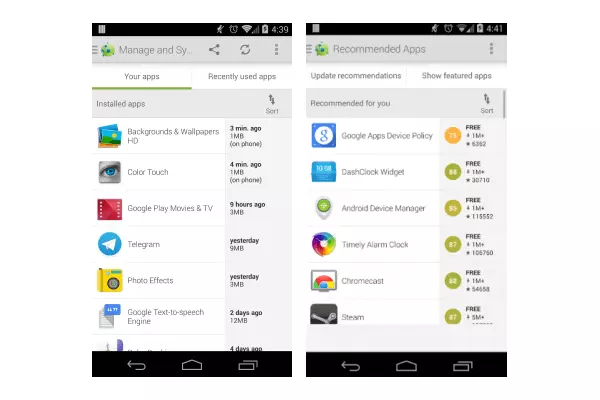 Do you need paid apps free of charge? If so, then, AppBrain is the place to be! Here, several developers offer paid apps free of charge for a given time frame and AppBrain markets their apps as a return. You will also find nearly all apps missing in other stores here.
7. GetAPK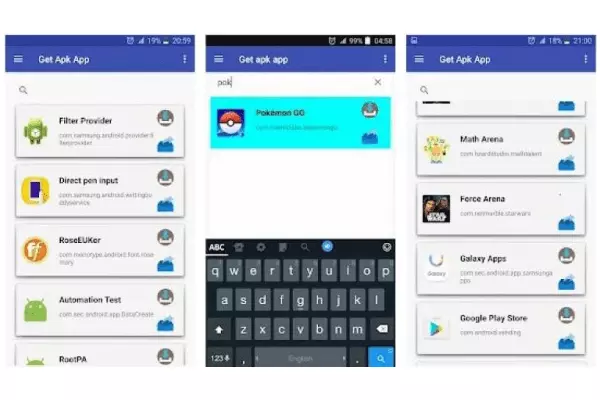 This is one of the largest app stores known for downloading APK files. All apps are free and all that you need to do is to search the app and then download it. You will also find paid apps in the Play Store for free. What you may not like here is the slightly unresponsive user interface.
The best alternative to play store app from phone manufacturers
Are you looking for more trusted Google alternatives or those that are from phone manufacturers? They include:
1. Samsung Galaxy Store
The Galaxy App Store is present in all Samsung phones. It's also available for Android devices, Smart TVs, Smartwatches and others. As for Samsung, it comes preinstalled and operates in the background.
2. Xiaomi GetApps
Xiaomi users are aware of the GetApps as their App Store. It's almost the same as the Samsung Galaxy Store. If you are using Xiaomi phones such as Redmi, Mi, and Poco, then, you can get rid of the Play Store and choose to use GetApps instead.
3. Huawei App Gallery
Have you ever used any Huawei Honor phones? If so, then, you will accept that AppGallery is their App Store. It's also available for everyone who wants to use it on any different Android device.
Risks and downsides of leaving Google Play Store
Choosing to abandon Google Play invites limitations as well. You will call it quits for millions of apps and responsive Play Store's responsive user interface, among other benefits of using Play Store. Not everyone is willing to make this move due to the following risks:
Dealing with unknown sources
Lack of safety measures
Lack of necessary applications
Conflicting Updates
Summary
As much as Google Play is dominating the app store market, it has several top-rated rivals or alternatives such as APKMirror, Amazon Appstore, F-Droid, GetJar, SlideMe, AppBrain, GetAPK and many others.
There are various reasons that can make one ditch Google Play such as avoiding monopolization, avoiding Google, looking for more apps, privacy concerns among many others.
There are consequences of opting for other rivals.