Raspberry Pi announces the update of its Camera Module with long-awaited improvements. Finally, autofocus is no longer wishful thinking! Let's take a closer look at the improvements Raspberry Pi was working on.
What's new about Raspberry Pi Camera Model 3?

With a Sony IMX708 sensor, the new compact camera model for Raspberry Pi delivers better resolution (12 megapixels), a bigger and more sensitive pixel design, and support for high-dynamic-range imaging.
Raspberry Pi Camera Module 3 versions
Like previous Raspberry Pi products, the Raspberry Pi Camera Module 3 is offered in a variety of configurations. There will be four versions, which differ in specs and price:
| | | |
| --- | --- | --- |
| | Standard FoV | Wide FoV |
| Visible-light option | Camera Module 3 | Camera Module 3 Wide |
| Infrared-sensitive option | Camera Module 3 NoIR | Camera Module 3 NoIR Wide |
| Price | $25 | $35 |
The versions come either in standard or wide field-of-view (FoV).The wide-angle module has a 102-degree FoV whereas the normal module has a 66-degree FoV. Both have the option of being infrared- or visible-light-sensitive. The latter is rightly titled NoIR, which is also reflected in its all-black color scheme. It was created for night photography or recording.
So much for the differentiation of optics and costs. Let's get to the point: What about the most exciting improvements compared to the predecessor model - Raspberry Pi Camera Model 2?
Not just for stills
Finally, the long-needed autofocus is here! We've been waiting for this for a while.
As you are undoubtedly aware, the Raspberry Pi camera module's predecessors all have fixed-focus lenses, which could be functional in some situations but are inconvenient when attempting to take crisp pictures of nearby or distant things. Not everything conveniently stays 1 meter apart when it is being recorded or photographed.
Therefore, we believe this will make a lot of Pi enthusiasts very happy.
Video: Demonstration autofocus with Camera Module 3, by Raspberry Pi

Phase Detection Autofocus (PDAF) capabilities of the IMX708 sensor guarantee that the ideal lens position is selected (fallback Contrast Detection Autofocus). A large library of software commands gives you complete control over what you focus on. The constantly operating focusing algorithm keeps not just static but moving objects sharp.
Thanks to PDAF, a higher resolution 46082592 (11.9 megapixels) array of 1.40m pixels, and a 16:9 aspect ratio that allows for the recording of HD videos at 50fps, the new camera is more suited for video recording and streaming.
HDR support for illuminating images
High-dynamic-range imaging, or HDR, allows for the capture of photos under challenging lighting conditions. The exposure period must be timed properly to provide the best results.
🌑 Dark scenes: long exposure time to capture poorly illuminated details
☀️ Bright scenes: short exposure time to avoid saturating the sensor and blowing out the image
There is no ideal exposure time if a scene includes both dark and light areas. HDR sensors are very useful in this situation. The IMX708 employs multiple exposures. The best areas of the data will be blended into one image using a tone mapping process.
Video: Demo film recorded entirely with Camera Module 3, by Raspberry Pi

Raspberry Pi Camera Module v2 and 3 compatibility
All Raspberry Pi computers with CSI connectors can use Camera Module 3. The camera is interchangeable with Raspberry Pi Camera Module v2. The biggest distinction between Camera Module 3 and its predecessors is the actual size.
The PCB footprint and mounting holes remain the same, but the top camera is somewhat larger and includes a moveable front lens element. Keep in mind that as a result, many current camera cases will not fit the new model.
Upgrade of High Quality Camera
Besides the new camera, Raspberry Pi announced an update of the High Quality Camera ($50). The new version comes with a native M12 mount. From now on there is no need for adapters anymore. Because of this, adding fisheye and other specialized lenses is simpler and cheaper.
An important step in the right direction
The new camera is a significant step up from the older camera modules in every way. Nevertheless, there is still room for improvement. The details are a bit corny. The 12 megapixels cannot be resolved by the build-in lens. But you get a lot more than the old model has to offer for the same 25 dollars.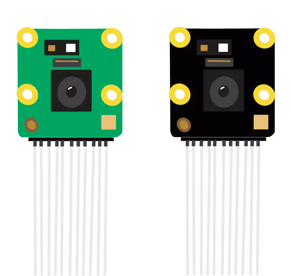 In conclusion, the Raspberry Pi Camera Module 3 offers the following noteworthy advantages:
✔️ Upgrade sensor to Sony IMX708
✔️ Higher resolution (12 megapixels)
✔️ Bigger and more sensitive pixel design
✔️ Support of autofocus and HDR imaging
✔️ Choice of standard and wide lenses
✔️ With or without an infrared filter
Try out our latest Android 13 image (Nightly 13.3.46) for Raspberry Pi 4 and use the new Raspberry Pi Camera Module 3 for a greater camera experience! 🌟📷
---
Useful links and sources:
Power your Pi with Android
Interested in running embedded Android on Raspberry Pi products?
Check out emteria.OS and how it can be used to run Android apps on your Pi.
Explore emteria.OS