There was some pleasantly surprising news last week. Despite past assurances by Eben Upton that no new product launches are expected this year, the new Raspberry Pi 5 is set to hit the market this October.
The most important innovations
The new Raspberry Pi generation is hardly recognizable. The single board computer (SBC) is 2-3 times more powerful than Raspberry Pi 4, offering lightning-fast CPU speed, a PCI Express interface, a Real Time Clock (RTC) and a power button!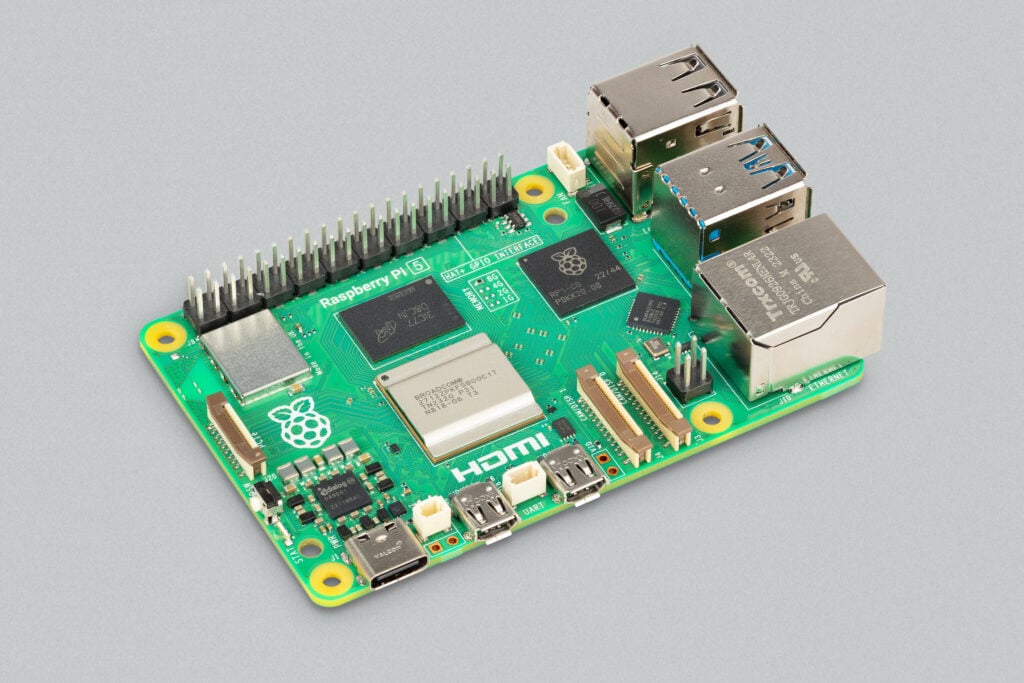 Raw Raspberry Pi 5 tech spec overview
Broadcom BCM2712 2.4GHz quad-core 64-bit Arm Cortex-A76 CPU, with cryptography extensions, 512KB per-core L2 caches and a 2MB shared L3 cache
VideoCore VII GPU, supporting OpenGL ES 3.1, Vulkan 1.2
Dual 4Kp60 HDMI® display output with HDR support
4Kp60 HEVC decoder
LPDDR4X-4267 SDRAM (4GB and 8GB SKUs available at launch)
Dual-band 802.11ac Wi-Fi®
Bluetooth 5.0 / Bluetooth Low Energy (BLE)
microSD card slot, with support for high-speed SDR104 mode
2 × USB 3.0 ports, supporting simultaneous 5Gbps operation
2 × USB 2.0 ports
Gigabit Ethernet, with PoE+ support (requires separate PoE+ HAT)
2 × 4-lane MIPI camera/display transceivers
PCIe 2.0 x1 interface for fast peripherals (requires separate M.2 HAT or other adapter)
5V/5A DC power via USB-C, with Power Delivery support
Raspberry Pi standard 40-pin header
Real-time clock (RTC), powered from external battery
Power button
Let's take a closer look at the details.
New Raspberry Pi 5, new chipset
The Raspberry Pi 5 shines with a completely new chipset:
Processor – BCM2712
Separate I/O controller – RP1
Power-management IC – Renesas DA9091 "Gilmour"
New application processor BCM2712 on board
As already mentioned, the new Raspberry Pi 5 enters the market with 2-3 times more computing power than its predecessor. This is made possible by the new processor - BMC2712.
The BMC2712 comes with 4 ARM cores clocked at 2.4 GHz instead of 1.8 GHz. The architecture upgrade from Cortex-A72 to Cortex-A76 allows processing more commands at the same time and is a real performance booster. Especially in combination with a 4 times bigger CPU cache (512KB L2 Caches & 2MB shared L3 Cache) and the LPDDR4X-4267 SDRAM storage, which is 78% faster than the old model. You can choose between 4GB or 8GB of RAM.
This is the first Raspberry Pi model that comes with a PCI Express port (PCIe 2.0 x1 with 500 MB/s) to attach SSDs (requires separate M.2 HAT). Like the Pi 4, the new Raspberry Pi 5 also features a microSD card slot that offers double SD card performance with high-speed SDR104 mode.
Faster CPU, better GPU: The VideoCore VII GPU is compatible to OpenGL ES 3.1 and Vulkan 1.2. No big improvements on the hardware video decoders. But the two microHDMI sockets, each of which can control a 4K display at 60 Hertz, now support HDR.
Chiplet architecture for the Raspberry Pi 5
The major change introduced by the next gen RPi 5 is moving a lot of the I/O functions formally part of the application processor (AP) to a separate I/O controller for performance reasons. Only the SD card, SDRAM, HDMI and PCI Express are still provided by the AP.
The following I/O functions are now part of the newly introduced RP1 chip, connected to the AP via PCI Express:
2x USB 3.0 ports – supports simultaneous 5Gbps operation
2x USB 2.0 ports
Gigabit Ethernet – with PoE+ support (requires separate PoE+ HAT)
2x four-lane MIPI transceivers for camera and display – supports simultaneous operation of two cameras or two displays
2,4 GHz und 5,0 GHz 802.11ac WiFi – still no WiFi 6, but higher bandwidth for a stronger connection
Bluetooth 5.0 und BLE

40-pin GPIO expansion header (UART, SPI, I2C, I2S und PWM)
The RP1 now controls most of the Raspberry Pi's 5 I/O functions, resulting in more peripheral performance and functionality. This includes double USB bandwidth and the option to boot from USB 3.0.
Despite the changes introduced for the Raspberry Pi 5 the company states: "And while its interfaces differ in fine detail from those of BCM2711, they have been designed to be very similar from a functional perspective, ensuring a high degree of compatibility with earlier Raspberry Pi devices."
Finally, RTC and a power button
Besides the BCM2712 and RP1, there is a third chip component that found its way to the Raspberry Pi 5 – the Renesas DA9091 "Gilmour" power-management IC (PMIC). Developed especially for the needs of Raspberry Pi 5 the PMIC is big news mainly because its development resulted in adding two highly anticipated features: a real-time clock (RTC) and a power button.
Raspberry Pi 5 RTC can wake the Pi 5 from sleep mode and is programmable! It needs to be powered from an external battery. The power button is also able to wake the Pi, switch it off or turn the power supply off.
Which OS is running on Raspberry Pi 5?
Raspberry Pi 5 runs Raspberry Pi OS, Bookworm, the latest version of the in-house developed operating system (OS). Older Pi OS versions are not supported. Other OSes such as Ubuntu and Android for Raspberry Pi will follow soon.
Android on Raspberry Pi 5
Android on Raspberry Pi 5 will be available soon. We are working on a release for the latest Raspberry Pi Android version while writing this article. We will keep this article updated once there are new developments on Android for Raspberry Pi 5.
Meanwhile, you can download our Raspberry Pi Android OS in the Raspberry Pi Imager. Currently, available is Android 13 for Raspberry Pi 4 (supporting Raspberry Pi 4B, CM4, and 400 PC).
To get started with emteria's Raspberry Pi Android OS, head over to the official Raspberry Pi Imager and follow the easy installation steps.
Why running Android on Raspberry Pi 5?
Raspberry Pi Android gives you the effortless touchscreen support that so many of today's devices require. Especially, customer-facing devices such as kiosk terminals or POS systems benefit from the great UX Android provides. Raspberry Pi Android OS gives you the additional advantage to run Android apps on your Raspberry Pi 5.
Raspberry Pi 5 accessories
To get the most out of your Pi, Raspberry Pi provides a couple of accessories for the Raspberry Pi 5. There will certainly be more in the future.
For now, you can preorder:
Official Case for Raspberry Pi 5
Raspberry Pi 5 Active Cooler
Raspberry Pi 5 PoE+ HAT
Raspberry Pi 27W USB-C Power Supply
Panasonic ML-2020 Lithium-Mangan-Dioxid-Battery
Raspberry Pi 5 tends to run very hot. So, you need to think about cooling. The new Pi 5 case comes with a better way to distribute heat and has an active cooler already on board. The new PoE+ HAT for Raspberry Pi 5, along with the fan and cover, fits into the case. Please note that the active cooler is also available without the case.
Old cases cannot be reused since the new Pi 5 changed the positioning of USB and Ethernet ports. Unfortunately, your old Pi 4 PoE+ HAT will also not work with your new Raspberry Pi 5 due to the physical layout and power requirements.
The new USB-C power supply (5 V / 5A) allows your Pi 5 to power a greater number of peripheral devices than previous models. The Panasonic battery is needed to power the Raspberry Pi 5 RTC and can be connected directly to the battery connector on your board.
How much will the Raspberry Pi 5 cost?
Worth mentioning besides all the Raspberry Pi 5 tech specs - the price. All those improvements come at a higher price tag. The 4GB RAM variant starts at $60 and its bigger brother with 8GB at $80 (plus taxes). Check Raspberry Pi Approved Resellers for preorder options.
Final thoughts on Raspberry Pi 5
The Raspberry Pi 5 thrives to redefine the Raspberry Pi experience and as far as we've concerned it fulfills this promise. With its powerful design and new features like PCIe, RTC and a CPU frequency of 2.4GHz, the Raspberry Pi 5 will completely change the game.
To further boost its capacity to build great projects, we are working on supporting Android OS on Raspberry Pi 5. Keep your eyes open for new Android releases in the Raspberry Pi Imager. We keep you posted here.
---
Sources:
Install Android on your Raspberry Pi
Full tutorial including FAQs
We have gathered everything you need to know to successfully run Android 13 on your Raspberry Pi 4B.
Learn all there is to know